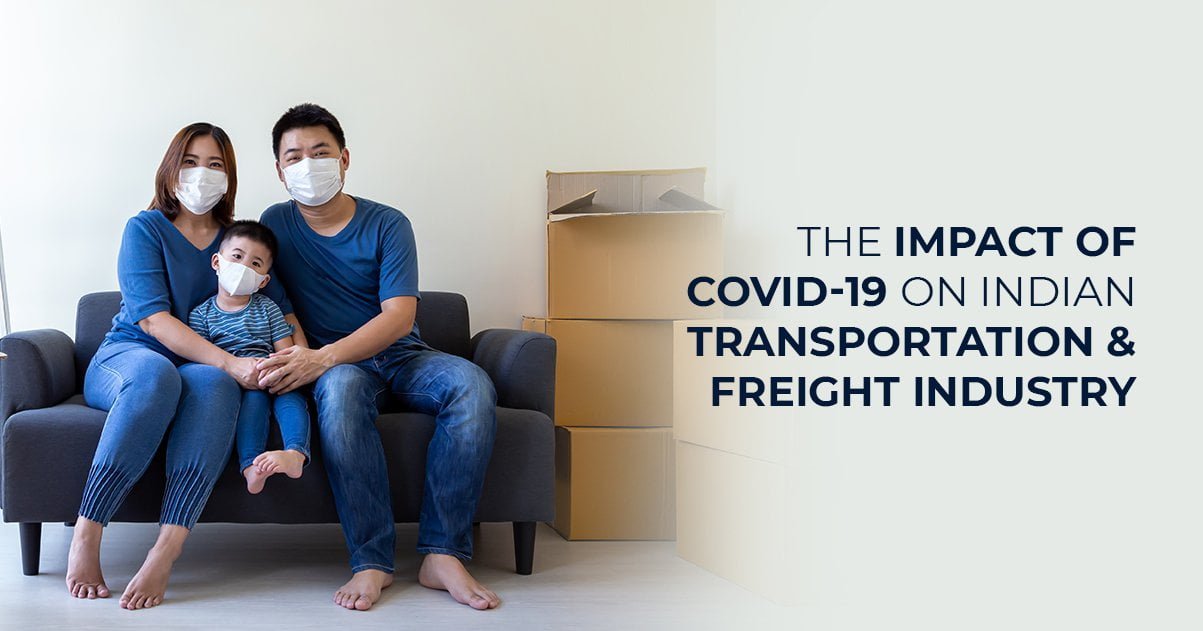 COVID-19 has been a boon for some and a bane for many. Industries are at a stand-still, many have taken permanent damage due to the nation-wide locking and unlocking. Economies are falling, India's GDP is at the lowest compared to the past 6 years. Businesses are struggling, there are labour shortages, unemployment, a slowdown in manufacturing and most importantly a disruption in transport.
Freight and transportation have been one of the worst-hit industries amidst all the chaos. The industry that once thrived on international and domestic goods transportation saw a halt on business due to the ban and enforced emergency policies.
What Happened?
Let's look at the scenario from both logistics and transportation point of view.
Logistics and Freight:
Due to the lockdown, logistics services saw a shortage in manpower, cargo challenges, delayed shipments and shocks in demand and supply. This is, of course, just the tip of the ice-berg.
Restrictions imposed on air travel and international flights across the globe have slowed down the transportation of goods globally. There are short term effects on immediate transportation but long term effects on freight demand. There is an estimate of a loss of $9 trillion globally, the world trade saw a decline of 32%.
The manufacturing industry has reduced the demand for logistics and freight which in turn is leading to a slope in pricing across all logistics verticals like freight, warehousing and the overall logistics. This will impact the industry in the long run as the after-effects of COVID-19 are going to spread across a ripple of change in the supply industry. The reason for this is a distinct behavioural change in people. The demand and supply of different goods will be volatile, for example, there is an increase in demand for medical equipment as compared to luxury products in this pandemic. This in turn will affect the supply chain of various companies.
Transportation
Transportation is the first sector to be affected by COVID. People are not stepping out of their homes for security purposes. This has slowed down public and commercial transportation, especially rail and road transportation services. Intercity travel also saw some heat.
Commercially, there is a rise in demand for truck drivers for transport of goods like grocery and daily essentials, among other things like food and medical necessities. This period has proven to be nothing but a struggle for the drives as en route eateries were closed, no banks were open which led to lack of cash support, drivers did not have maintenance or repair centres and were subjecting themselves to the threat of the virus.
Companies have been relying on local truck drivers as many had migrated back homes. There was a shift from cash to online payments. Trucks were being halted by corporates for months but the drivers did not get their dues. A moratorium for the delay in EMD was given by the government but would that really help the drivers? As soon as the banks demand instalments, more and more tricksters will fall in line and supply will be skewed.
The government should bail the industry by major reforms/discounts but instead, diesel prices were increased, toll across the country was increased roughly by 18 %, the Euro VI models of trucks have become expensive and highway robberies have increased.
Due to various markets struggling to float, the demand and supply of trucks has increased in industrial towns, owing to which the rates have risen exponentially.
What Can We Expect?
We can expect things to get better, but slowly. For example, as there are restrictions in air and cargo, logistics firms are finding different ways to supply goods at least domestically. It helps that the government has allowed few goods to be transported on priority but the logistics industry still hasn't gained the importance it should. As soon as the lockdown was lifted, the transport industry was the first to bounce back amidst all the uncertainty and risk, however, the norms don't work in favour. Truck drivers today are no less than heroes, ensuring that the country and its people have what they need.
No one is sure whether COVID-19 is here to stay, but we can be sure about one fact: there has been irreplaceable damage done to the world. Like a domino effect, things have fallen, breaking the supply chain in the process.
Mega Freight has been doing everything to ensure that our customers and clients don't face the heat that we, as a company, are facing. Our deliveries are on time and we are vehemently taking every precaution needed to prevent the spreading of the virus.
The future is uncertain, but not bleak and with time, this too shall pass.