Our Network
From 1972, MEGA has grown from a one-truck business to one of India's most respected and well-known logistics brands. MEGA has one of the widest pan-India
presences with our distribution hubs and owned warehouses and offices which connect more than 1200 cities. We are also very proud of our transportation fleet
of almost 1500 diverse fleet, consisting of owned and attached vehicles.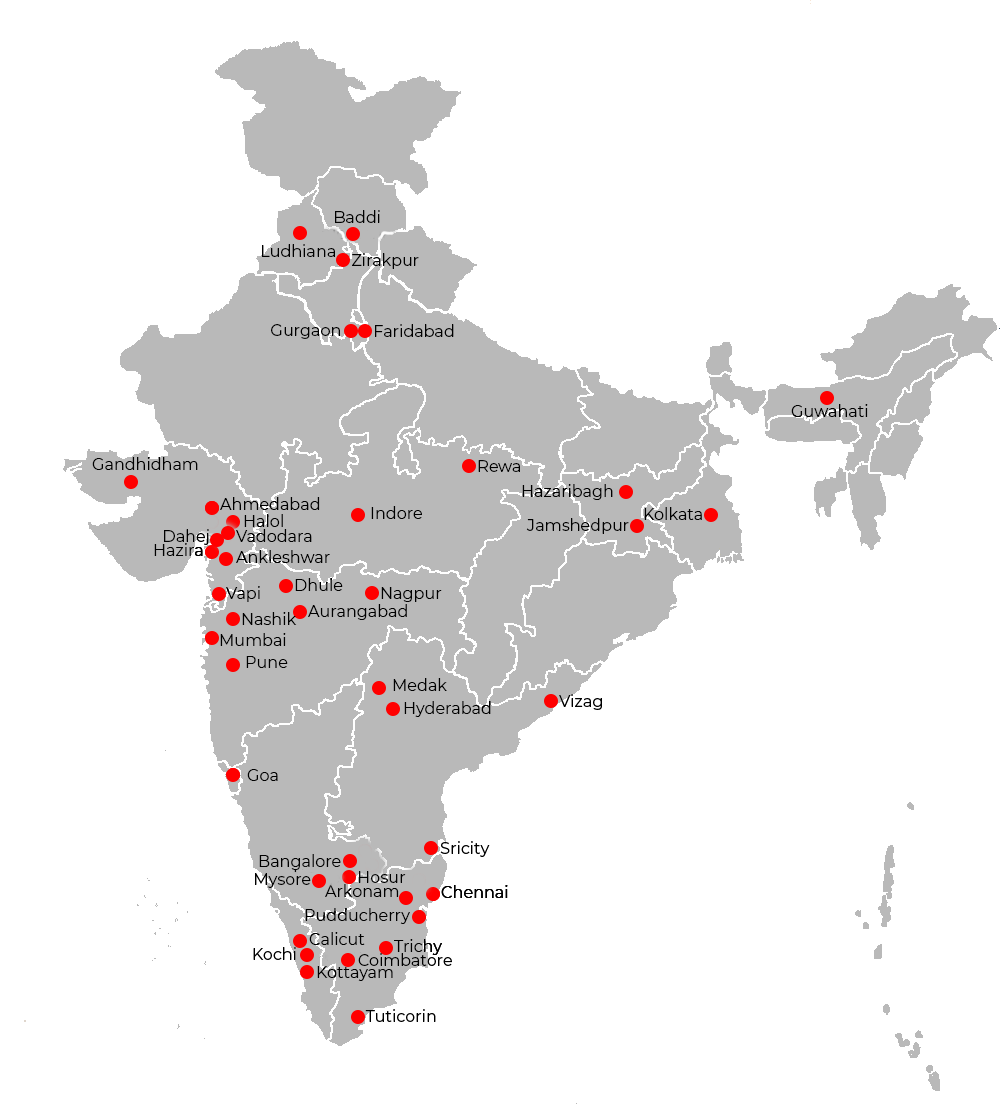 Ahmedabad
Shyam Icon, Shop no.36, 4th Floor
Near HP Petrol Pump, SP Ring Road
Aslali Circle, Ahmedabad-382017
ahmedabad@megaltd.net
Ankleshwar
1-3 Raviraj Apartment
Valiya Chowkdi GIDC Ankleshwar
vadodara@megaltd.net
Arkonam
C/o MRF Ltd., ThiruNagar
Ichiputhur Post
Arkonam 631003 (Tamilnadu)
chennai@megaltd.net
Aurangabad
Mega House,
Plot No A/ 17 MIDC Industrial Area
Waluj Aurangabad 431136 (Maharashtra)
waluj@megaltd.net
Bangalore
No.509-5,Ground Floor,
Arishenakonte,Near RTO office,
Kasaba Hobli, Neelamangala,
Bangalore-562 123 ( Karnataka)
bangalore@megaltd.net
Calicut
Triveni Cottage 17/159 1st Floor,
opp Kanakasree auditorium,
Sreekandeswar temple Road,
Calicut-673001 (Kerala)
kochi@megaltd.net
Chennai
2nd Floor, 182(old No.230),
Lenghi Chetty Street,
Chennai 600001 (Tamilnadu)
chennai@megaltd.net
Cochin
3rd Floor, Chandra TowerVyttilla,
Cochin-682019 (KERALA)
kochi@megaltd.net
Dhule
Near Chalisgaon crossing,
Opp Desh Videsh
Dhaba,N H-3 Dhule 424311 (Maharashtra)
nasik@megaltd.net
Gandhidham
DBZ South 120 A 1 st Floor
Near Khajana Matching
Gandhidham 370201 (Kutch)
vadodara@megaltd.net
Guwahati
House no. 23, Pellingkata,
Mansa Mandir Road,
Guwahati – 781029
contact@megaltd.net
Goa
Flat no AF 7 Dom Manual Appartments
Santa cruz Phonda
Goa 403401
goa@megaltd.net
Halol
Mega House,Plot NO 1301 B GIDC
Halol 389350 (Gujarat)
vadodara@megaltd.net
Hazaribagh
Holding no. 176, 1st Floor,
Kazi Mohalla, Near Kargil Petrol Pump
Hazaribagh – 825301
Hazira
Flat no-C 306 3rd Floor
Crystal Township Ichhapur,
Near Kribhco Township
Hazira Road,Surat 394510 (Gujarat)
vadodara@megaltd.net
Hosur
Door No 314,Iind Cross, Arasan House,
Venkatesh Nagar,Near Venkateswara Temple,
Alanathem Road Hosur 635 109
Hyderabad
Mega House, Survey no-311-312,
Near C0-CA Cola X Road
Miyapur Bollaram Road,Bachupally,
Hyderabad-500072 (Andhra Pradesh)
hyderabad@megaltd.net
Indore
Godown No 4 C Sanjay Lunawat Logistics, Opp Bijasan Mandir,
Air Port-Indore 452005 (Madhya Pradesh)
indore@megaltd.net
Kolkatta
7,Tarachand Dutta Street,6 th Floor,
Kolkatta-700073 (W.B)
kolkatta@megaltd.net
Kottayam
Arackal Thazhathu House,
Near ESI Hospital
Vadavthoor Kottayam 686010 (Kerala)
kochi@megaltd.net
Ludhiana
House no-7102 Gali no 5 1/2
Guru Arjun Dev Nagar
Ludhiana -141008 (Punjab)
ludhiana@megaltd.net
Medak
Ramana Building, Opp Krishanaveni talent School
Sadashivpet, Medak 502291 (Andhra Pradesh)
medak@megaltd.net
Mumbai
39 Mehta Chambers,
127/A Kalyan Street,Dana Bunder
Mumbai-400009 (Maharashtra)
contact@megaltd.net
Mumbai HO
39, Mehta Chamber 5 th Floor
127/A Kalyan Street Dana Bunder
Mumbai-400009 (Maharashtra)
contact@megaltd.net
Nagpur
Plot no-11 Ward no-3 Jagruteshwar Society Lay out
Behind Jija Mata School ,Butibori
NAGPUR -441108 (Maharashtra)
nagpur@megaltd.net
Nasik
Mega House, Plot no.- 7 & 40 Shramik Nagar,
Satpur, Nasik-422008(Maharashtra)
nasik@megaltd.net
Puducherry
4/460 Kurunji St, Kalaivanar Nagar,
Gorimedu Near Pattanur Check Post
Puducherry 605006
pondy@megaltd.net
Pune
101/104 Agarwal Chambers,
Mumbai-pune Road
Nigdi ,Pune 411044 (Maharashtra)
pune@megaltd.net
Trichy
Flat NO 40 Dr Radhakrishna Street Ward no-12
Perambalur 621212 (Tamilnadu)
trichy@megaltd.net
Vadodara
Mega House Plot No.A-177
Shree Vishnu Co-op Hsg NH No-8
Sayajipura Vadodara 390019 (Gujarat)
vadodara@megaltd.net
Vapi
Near Padam Plastics Godown No.61& 62
Silvassa Road, GIDC,Vapi 396195 (Gujarat)
vapi@megaltd.net