A lot of people don't know that warehouse storage services are an essential part of moving. Mega Pack and Carry offer long and short-term storage facilities to store your goods, furniture, machinery, and even household items. Clients prefer Mega for
home storage in Mumbai
due to the safety we offer.
Moving is a stressful activity, especially if you are moving between two permanent cities. Having to shift your house from one city to another is a humongous task. Therefore, you need reliable solutions that can store important or big goods, at least until you settle. Hence, we provide you with trusted home storage services in Mumbai and other cities of India.
If you are someone who has to move a lot then storage facilities would be highly beneficial for you to plan your move hassle-free.
Mega offers you great packing and moving and home shifting services in Mumbai and several other cities where you can count on our staff to keep your stuff safe, clean, and undamaged. We understand the need for the same and work tirelessly to ensure that you don't have any worries.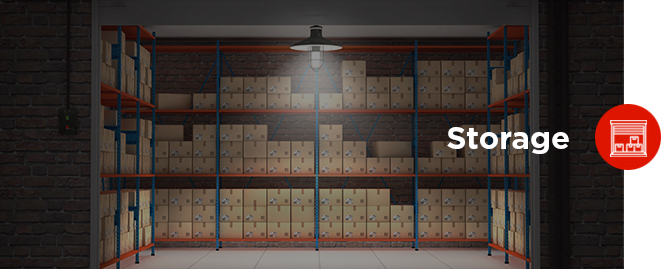 Our home storage services cater to both long and short-term needs, especially if you are in between two cities. We have warehouses across the country in major distribution hubs. These warehouses are safe and secure, with 24-hour security. Our stringent quality standards and processes ensure an ideal environment for your goods. Hence, we are the most trusted providers of home storage services in Mumbai and other cities.

Affordable rent
24×7 CCTV surveillance
Clean and pest-free storage rooms
3 layer packaging for the security of goods
Our professionals supervise the storage facilities day and night to keep an eye out for any unforeseen situation. Therefore, you can move around stress-free!
Our Process
The process for storing your goods is simple, and our packers and movers help you with everything.
Step 1:
We assess the goods and commodities that need storing, whether it is individually or during the move. This gives us an idea of what kind of storage is needed for example fragile goods need big storage facilities as they are packed well whereas perishable goods may need temperature control storage facilities.
Step 2:
Once we have the item defined, we move on to packaging and boxing. We ensure that the items are well-packed with our 3 layer packaging services which include bubble wrap, shrink wrap, and corrugated sheets.
Step 3:
After setting the packaging, we store the goods in our high-quality, high-tech storage warehouses which include 24×7 CCTV surveillance; pest-controlled spaces, and staff for monitoring. You can leave your goods for both short and long term for affordable prices.
You can avail of home storage services in Mumbai and other locations anytime!
How We Help
Mega Pack and Carry have been in the packers and movers business for a while. Starting from being the best packers and movers in Mumbai, we have relocated thousands of clients, we have acquired the expertise to handle goods and stuff with ease.
Our staff is trained to attend to any of your storage and moving and hence, we are the one-stop solution for moving and storing in India. We work with you closely and keep you updated on progress from time to time, so you can rest assured that your stuff is in safe hands.
Planning a move? Opt for Mega's home storage services in Mumbai and other cities!