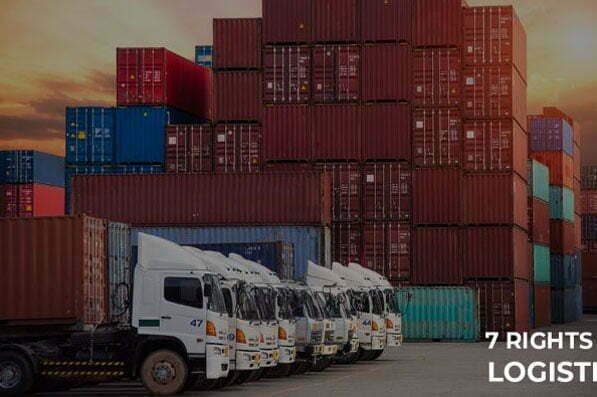 Logistics as a whole vertical is based on hundreds of well-formed concepts. These concepts define different functions of the company and help it to understand gaps and opportunities in order to do well.
One such concept that we'll be diving into today is famously known as the '7 Rs' or the '7 Rights' of logistics. These rights are meant to help a logistics services firm understand the right way to do things in order to run the company well. Like getting the Right product, in the Right condition, in the Right quantity, at the Right time, in the Right place, to the Right customer, at the Right price. Each of these 7 rights is elaborated below.
The 7 Rights Of Logistics
The Right Product
Every product is different. And every product will have a different requirement. Hence, a company needs to cater to different packaging materials for different products. At Mega, we have learned this first hand as we cater to all kinds of industries including pharma, tyres, FMCG etc. Fragile goods may be extra careful packaging while perishable goods may need cool or temperature-controlled warehousing space. So the right packaging will enable a company to provide great service to the clients. Simultaneously, when products are designed with standardization, it helps a company manage greatly.
The Right Customer
Finding the right target for your services is crucial for a logistics company. You need to identify which sector/industry needs your services more in order to gain potential leads. Once you find the correct target, you need to understand the market and promote yourself accordingly in order to be seen as a beneficial service provider.
The Right Quantity
With the increasing demand for products across the nation, a logistics firm should ensure that it can meet the demands for quantity. A supply chain can only run well when the demand is met and the chain is running securely. Forming this balance is important. Even if there is excessive quantity, the cost for warehousing and transport increases, not to mention the policies that will hinder the transport. Therefore, define the right quantity beforehand.
The Right Condition
Imagine ordering a product online only for it to be delivered in tattered boxes. This scenario can happen with any kind of product during transport. Hence, packaging and the overall handling of the products should ensure that it is safely delivered in top condition. This will keep the clients, and your business happy too!
The Right Place
Different places will have different demands. This may vary from geographical locations and demographic reasons. A logistics firm need to find the right location for the right product and provide supply to the demand there. As an integral part of the supply chain, we need to meet the demands but in the right locations. Once you have them, you can craft a distribution strategy based on those locations.
The Right Time
Time is crucial for various clients. If the products are not provided in time, it can hamper the entire supply chain. Some products have to be on the shelf at the right time or else they may lose to their competition. For example, milk. Milk is a perishable item and supplying it on time is important because a) it is a commodity that can easily lose to competition and b) it is highly perishable.
The Right Cost
This is one of the most important Rights of logistics, especially for a budget-conscious country like India. A product will do well when it is neither expensive nor cheap. There has to be a balance where it is priced for its true value. In logistics, the price should be appropriate enough to allow companies to measure their incomes and expenses. You need a good system for storing and updating the right prices.
Conclusion
These 7 Rights are very important for logistics success. Following diligence with these rights and incorporating them in your operations, marketing and finance will help a firm sustain in the long term; while providing quality service to not just clients but people in general.
India is highly dependent on logistics and distribution to bring development to the nation hence, it is important to sustain logistics services for the long term.
Through our journey at Mega, we have learned everything through trial and error and it has helped us follow these concepts and be a better partner to our clients. You can always get in touch with us for logistics help.