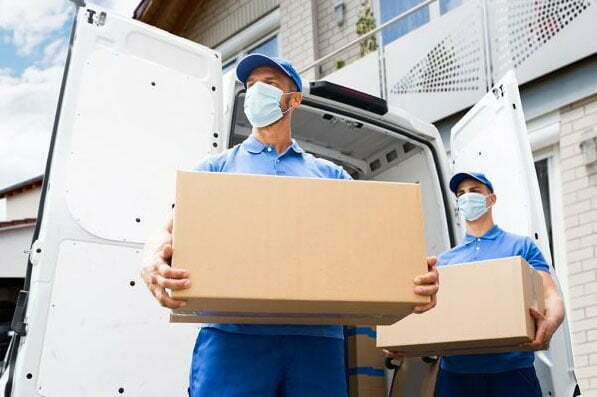 2020 is officially over and 2021 has brought with it the hope of COVID-10 vaccine. As the country braces itself for the next phase of the vaccination, we take this opportunity to look back at the dark year we had in 2020 and reminisce the impact of the pandemic on the relocation services industry.
As transport and logistics were one of the worst hit industries in India, it sent a wave which was carried on to packers and movers that relied on transport. The impact of COVID was bittersweet with a few positive and negative effects. Some effects were so long lasting that it could possibly give way to a new behavioural change in the way we conduct relocation business.
So let's dive into the impact of COVID-19 in the relocation industry in India.
No-contact deliveries became the norm 
The pandemic focused on the importance of social distancing, hence, this gave way to no-contact deliveries and communication between relocation companies and customers. Many organised players customised their services to enable online payments, e-billing and invoicing, online document uploading and updating.
Infact, even we at Mega came up with our own online services to provide zero-contact services.
Transport was down throughout the country. It was one of the first industries to be hit therefore operations were hampered for many companies. With highways closed, truck drivers didn't have pit-stops to rest and eat. This led to many drivers returning back home as business was down. Petrol prices were unstable due to the fall in GDP and fewer vehicles were running across roads and other forms of transport. The industry suffered a lot.
People were not buying new real-estate hence no moving
A lot of people migrated back homes, but many didn't 'move' their belongings. People, especially young workers preferred to pay rent for a room even though they weren't occupying it. Many had migrated back to their hometowns without moving furniture.
Along with this, the real estate industry was down. Many people lost jobs and hence investing in property was not a priority. This impacted the moving business a great deal.
Safety precautions were a must 
COVID-19 safety precautions were a must. People expected companies, especially the organised players to ensure that complete care was taken during the move including things like wearing an N95 mask, gloves or PPE gear. Every box needed sanitization and no contact was to take place between the workers and customers. Regular audits took place to ensure that no theft occurred. This was a time for survival for both the customers and the company so as to not endanger any lives.
Popularity in Storage Services
Storage services, although a niche offering in India, saw a boost in sales during the pandemic. This service was a great way to save rent and store important items for people who were migrating. Many organised players offered storage services at length for travellers and movers.
The industry saw a sudden spike, leading to companies offering multiple storage services for both long and short term purposes.
Conclusion
The events of the lockdown were a turning point for the packers and movers companies in India. A lot of things changed and the effects are still impacting the country. As the lockdown eased, there will be a surge in the demand for home shifting as people are slowly getting back on track.
However, the convenience of deliveries, online tracking and real-time updates will stay for a long time. The industry is slowly but surely catching its footing in the country.
Mega Pack & Carry vertical of Mega Group experienced similar challenges and we thankfully lived up to the expectations and survived during these hard times. We continue on this journey until the 'new normal' goes back to the normal we knew.
Get in touch with us for packing and moving services.